South Regional Champion: North Carolina
Published: March 30, 2017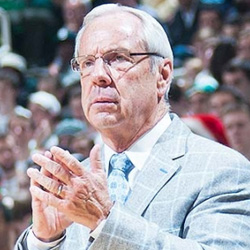 NORTH CAROLINA TARHEELS

2016-17 RECORD: 31-7, 14-4 ACC
HEAD COACH: Roy Willaims (9th Final Four Appearance)
PROJECTED STARTERS

G - Joel Berry II (14.7 PPG, 3.6 APG, 40.2 3-PT FG%)
F - Isaiah Hicks (12.3 PPG, 5.3 RPG, 60.1 FG%)
F - Theo Pinson (5.8 PPG, 4.2 RPG, 3.7 APG)
F - Justin Jackson (19.2 PPG, 4.7 RPG, 38.3 3-PT FG%)
F - Kennedy Meeks (12.5 PPG, 9.1 RPG, 54.4 FG%)

WILL WIN THE NATIONAL TITLE IF....
Luke Maye continues to be a major factor off the bench. Despite averaging only 14.4 minutes per game this season, Maye is making the most of his minutes on the court. His jumper with 0.3 seconds left to beat Kentucky will garner a lot of attention going forward, but it's been about more than just scoring for the former walk-on. Maye had nine rebounds in the opening-round win over Texas Southern and 12 in the Sweet 16 victory over Butler, showing that he is one of the many North Carolina players who can control the glass on any given night. It takes more than star players to win an NCAA title, and Maye has proved what the Tar Heels' supporting cast is capable of. If he's just as effective in the Final Four, it'll be tough for anyone to take down the ACC regular-season champs.
WILL LOSE TO OREGON ON SATURDAY IF....
North Carolina doesn't defend with the same intensity that it showed against Kentucky. The Tar Heels made life difficult for the Wildcats' big three of De'Aaron Fox, Malik Monk and Bam Adebayo. North Carolina will need to do the same against the explosive trio of Tyler Dorsey, Dillon Brooks and Jordan Bell. The Ducks are ranked in the top 20 nationally in field-goal percentage - 48.3 percent from the floor - and shoot 38.3 from behind the 3-point line. In the NCAA Tournament alone, Oregon has made 35 shots from beyond the arc and shot at least 39.1 percent from three in each of its four games. In each of North Carolina's last three losses, opponents made 10 or more 3-pointers. Given that the Ducks have plenty of long-range shooters at their disposal, it would be wise for the Tar Heels to guard the perimeter as well as they did in the win over Kentucky.