Midwest Regional Champion: Oregon
Published: March 30, 2017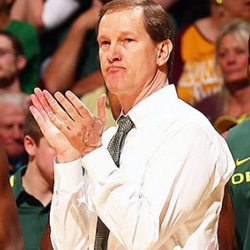 OREGON DUCKS

2016-17 RECORD: 33-5, 16-2 PAC-12
HEAD COACH: Dana Altman (First Final Four Appearance)
PROJECTED STARTERS

G - Payton Pritchard (7.4 PPG, 3.7 APG, 35.5 3-PT FG%)
G - Dylan Ennis (10.7 PPG, 4.4 RPG, 36.7 3-PT FG%)
G - Tyler Dorsey (14.5 PPG, 47.2 FG%, 42.3 3-PT FG%)
F - Dillon Brooks (16.3 PPG, 49.6 FG%, 41.0 3-PT FG%)
F - Jordan Bell (10.9 PPG, 8.6 RPG, 63.4 FG%)

WILL WIN THE NATIONAL TITLE IF....
Jordan Bell is as dominant as he was in the previous four games. Dillon Brooks and Tyler Dorsey were the household names before the NCAA Tournament started, but Bell has been a huge factor thanks to one magic number: 50. Bell has scored 50 total points and grabbed 50 total rebounds in the tournament, exactly what Oregon needed after losing senior forward Chris Boucher to an ACL injury in the Pac-12 Tournament. Most wrote off Oregon's national title chances after that setback, but Bell has shown that he's more than capable of filling the void - with his eightblock performance against Kansas also adding to the list of positives. Considering the physical presence that the other three remaining teams have in the paint, Bell must keep blocking shots and continue to be a force on the glass. If he does, he could lift the Ducks to their second national championship in program history.
WILL LOSE TO NORTH CAROLINA ON SATURDAY IF....
the Ducks can't keep the Tar Heels off the glass. North Carolina has tallied 61 offensive rebounds in the NCAA Tournament thus far - a figure that isn't all that surprising considering that the Tar Heels lead the nation in that category. Roy Williams' team is also far and away the best in the country in rebounding margin, averaging 13 more total rebounds per game than its opponents. See why Bell being a factor in the paint is so important now? Saturday's national semifinal game could be one that sees the Boucher injury finally catch up with Oregon. It'll take more than just Bell to keep North Carolina from owning the boards, so Brooks and Dylan Ennis - who averages 4.4 rebounds per game - will need to be more active than usual in that area of the game. If Oregon fails to limit the Tar Heels' second-chance opportunities, it may be a short stay for the Ducks after their long-awaited return to the Final Four.