East Regional Champion: South Carolina
Published: March 30, 2017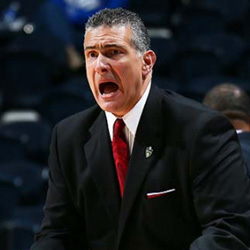 SOUTH CAROLINA GAMECOCKS

2016-17 RECORD: 26-10, 12-6 SEC
HEAD COACH: Frank Martin (First Final Four Appearance)
PROJECTED STARTERS

G - P.J Dozier (13.7 PPG, 4.7 RPG, 2.9 APG)
G - Duane Notice (10.3 PPG, 2.3 APG, 34.4 3-PT FG%)
G - Sindarius Thornwell (21.4 PPG, 7.2 RPG, 82.7 FT%)
F - Chris Silva (10.1 PPG, 5.8 RPG, 54.2 FG%)
F - Maik Kotsar (5.7 PPG, 4.9 RPG, 48.4 FG%)
WILL WIN THE NATIONAL TITLE IF....
it continues to get help around Sindarius Thornwell on the offensive end of the floor. The biggest reason for South Carolina's late-season struggles -which saw the Gamecocks lose six of their last nine games heading into the NCAA Tournament - had more to do with a lack of scoring around Thornwell than anything else. But in the NCAA Tournament, Thornwell's supporting cast has made its presence felt. P.J. Dozier has scored 11 or more points in all four tournament games. In addition to being a huge asset on the glass, forward Chris Silva has scored in double-figures in four straight games - the longest double-digit scoring streak for him this season. Duane Notice and Maik Kotsar are two other players who have made big baskets at important moments for South Carolina. If this group stays hot on offense, a first Final Four appearance could lead to something much bigger - a first-ever national championship.
WILL LOSE TO GONZAGA ON SATURDAY IF....
the Gamecocks have anything less than a complete defensive performance. The Zags boast seven players who average 7.3 points or more per game and rank second in the country in field-goal percentage, shooting a blistering 50.9 percent from the floor. And if the blowout win over Xavier in the Elite Eight wasn't enough evidence of just how overwhelming Gonzaga's offense can be, this stat should do the trick: The Bulldogs lead the nation in scoring margin, outscoring opponents by an average of 22.3 points in 37 games this year. Containing WCC Player of the Year Nigel Williams-Goss will be difficult enough for South Carolina, so it's crucial that the Gamecocks use their own impressive stats - seventh in the country in 3-point field-goal percentage defense and 15th in field-goal percentage defense - to keep the rest of the Zags' scorers from making things even more challenging.